The Four Different Types of Dementia
Just as there are different kinds of cars, restaurants, or weather, the neurological condition known as "dementia" comes in a variety of forms that have their onset at different ages and affect the brain differently as the disease progresses. The National Institute on Aging (NIA) describes four different types of dementia and how they affect one's daily life.
Please share this excellent infographic from the National Institute on Aging (NIA) to broaden the understanding of the various forms of dementia, how to recognize their onset, and how you can be in the best position to help a friend or loved one living with dementia.
Click this link to download the PDF of the infographic shown below.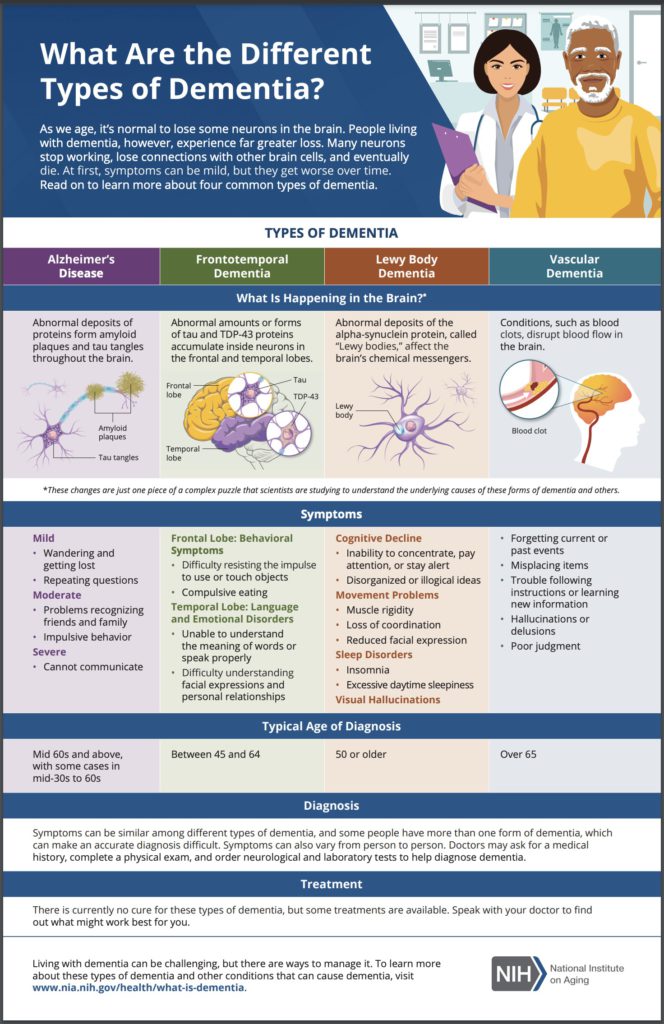 More Resources on Dementia
Here are some additional, useful links to explore the medical condition known as dementia. Early recognition and connection to resources can make a significant difference in the quality of life of a dementia patient and those that surround them.
What Is Dementia? Symptoms, Types, and Diagnosis (NIA, NIH)
Vascular Dementia: Causes, Symptoms, and Treatments
What Is Lewy Body Dementia? Causes, Symptoms, and Treatments
Alzheimer's Disease & Related Dementias
Dementia increases the risk and severity of COVID-19, study finds

Thumbnail image source: Photo by Joshua Hoehne on Unsplash