Improve Transition & Employment Outcomes
NEW TOOLS FOR BETTER RESULTS.
Old ways give you the same old frustrating results. Cognitopia has been built on everything we learned from Research and Professional use.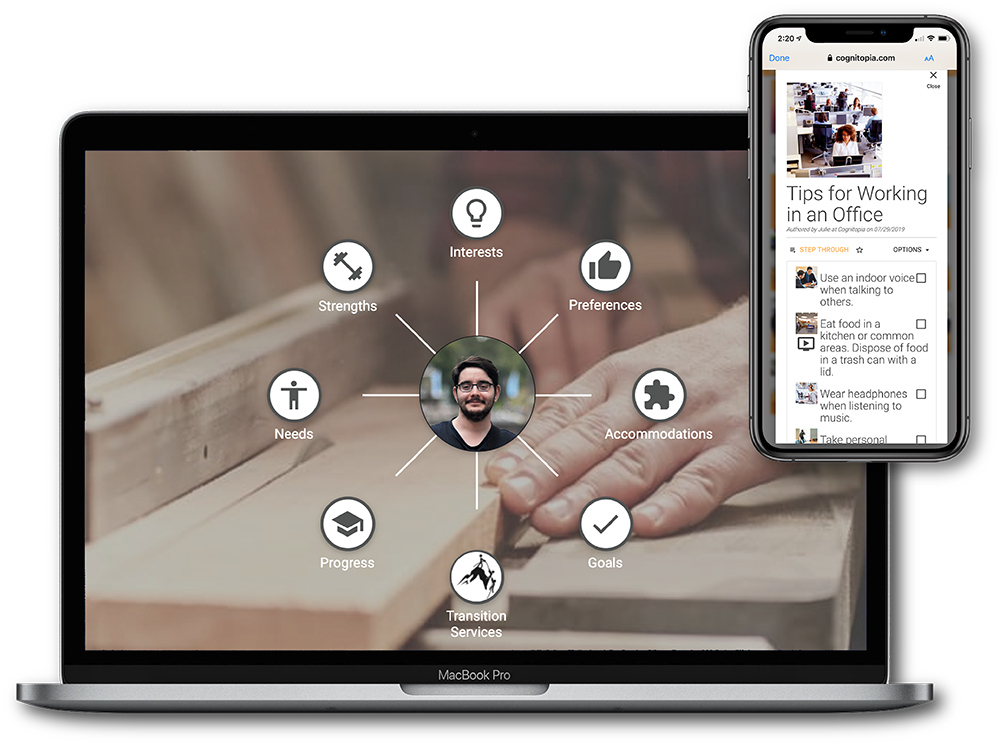 "It's the Coach you carry with you in your pocket."
– Rick Laferriere, Director, Workforce Initiatives at CVS Health
Cognitopia supports your needs.
Start Cognitopia to improve independence, self-determination, and employment success.
IMPROVE OUTCOMES:
job performance, soft skills, teamwork
IMPROVE TRANSITIONS:
IEP self-direction, goal setting, systematic instruction
person-centered planning, life skills, self-management
Cognitopia Makes Online Events Easy.
SAVE TIME & MONEY  •  KEEP PEOPLE ENGAGED  •  USE ANY DEVICE
USING COGNITOPIA FOR YOUR LIVE EVENTS HUB everyone gets a persistent location, rich multimedia communication, and an easy to use environment pre, post, and during the event.
See Cognitopia in Action.
Our Clients are using Cognitopia in many remarkable ways. Click to see live examples that can work for you now.
Cognitopia – RANGE OF USE, Example MyLife Hubs
---
The following Links open example Cognitopia MyLife Portfolio Hubs and Uses Case Videos.
We can't be more happy with Cognitopia.
---
The fact that they are able to present this information with minimal support from their team members is really impressive.
Cognitopia provided the opportunity for my students to lead their IEP meetings, goal progress, and advocate for their needs in a format they understood and enjoyed. They love inputting status updates on goals and sharing them with friends and family. Cognitopia is an excellent tool for supporting self-determination in students with disabilities.
Improve independence, self-determination, and transition success – anytime, anywhere.
Proven Effective
through research
Comprehensive
strengths-based approach to self-direction & advocacy
Remote Support
and progress tracking tools
Saves Time & Effort
for teachers, coaches, and managers
Meets Needs
of students with a broad range of abilities
Compliance
with INDICATORS 13 & 14
Request a Live Online Demonstration
We can schedule a time to deliver a live online demo for you. Ask all the questions you desire. We want people to have these easy-to-use improvement tools, to increase their success.
Partners