Get the FACTS about Transition
We're excited to see that FACT Oregon is conducting its Transition to Adulthood Virtual Learning Summit on January 29th. Many decisions and new opportunities face students as they engage in this transition along with their families and wider support networks. FACT Oregon, which "helps thousands of families each year navigate raising a child experiencing disability," focuses annually on this great event.
FACT is Oregon's Parent Training and Information Center, supported in part by funding from the U.S. Office of Special Education Programs to both support and equip children with disabilities, no matter where they are on their journey to adulthood. They have helped foster high expectations for children and young adults with the mantra that "disability is natural" and something to be embraced and celebrated. We couldn't agree more!
We are excited to help FACT Oregon in its mission to support families of children with disabilities and to promote this important 2022 event. The event flyer appears below followed by some links for registering, downloading the flyer, and getting more info: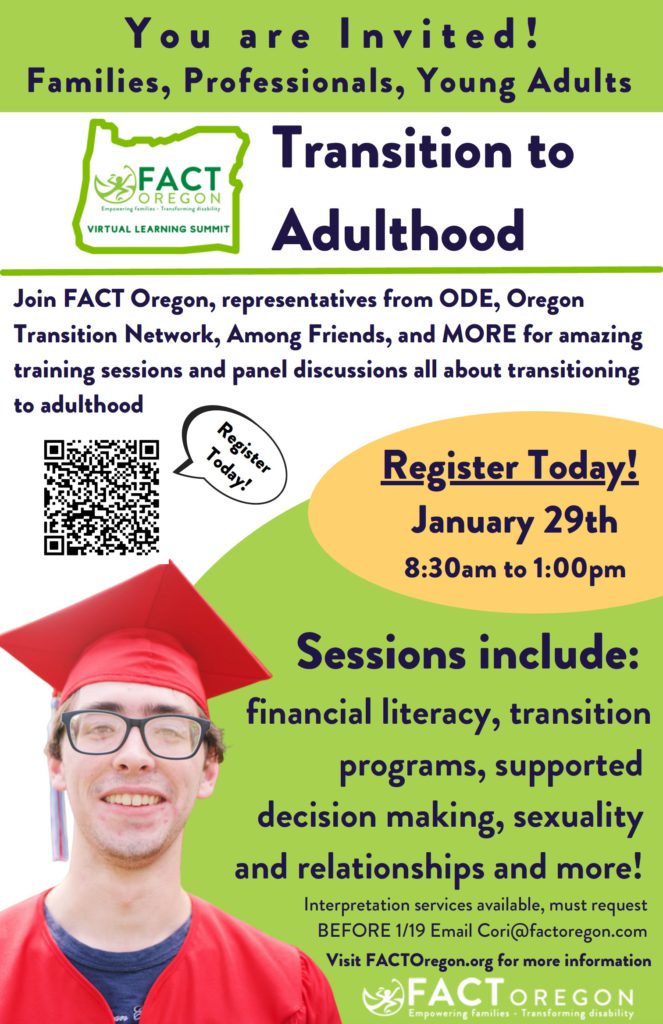 Registration
Download the FACT Oregon flier, which contains information and a QR Code that takes you directly to the registration page! The flier is available in both English and Spanish.
If you need assistance or want to get involved in any way you can reach out to FACT Oregon via telephone or e-mail:
FACT Oregon's telephone number