Cognitopia Celebrates National Disability Employment Awareness Month
During October, National Disability Employment Awareness Month, Cognitopia will be sharing on social media a series of employment-related routines that were creating using the Routines tool that is available on the Cognitopia Platform for Self-Determination, a suite of web-based applications to support self-management at work, at home, and in school. 
Routines is a tool for task-analyzing any activity using text, images, or video to create systematic instructions. Routines can be used to support getting a job, being prepared for work, on-the-job performance, and understanding  the social and functional aspects of the work setting.
For example, job interviews can be challenging and are often a significant barrier to obtaining employment for people with disabilities. The first in this series of Cognitopia routines shows How to Prepare for a Job Interview ahead of time.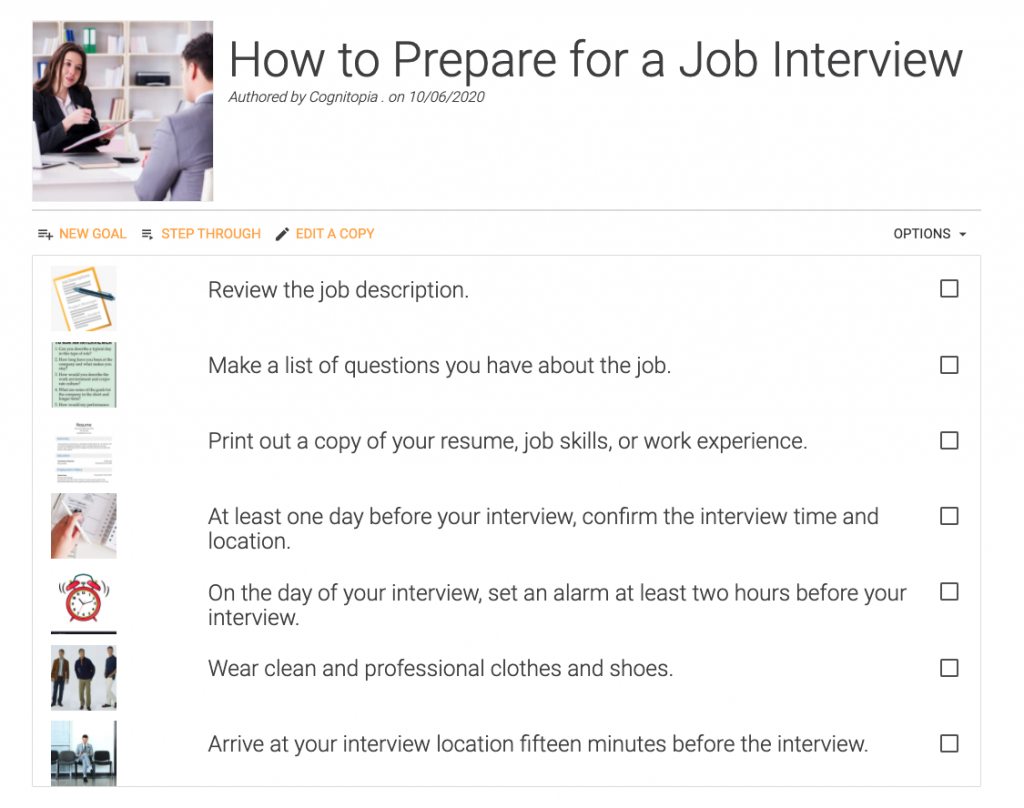 Another aspect of preparing for an interview or self-advocating for your career goals is to develop an "elevator pitch" that clearly, effectively, and quickly communicates what you want to do. Beyond job interviews, having a good elevator pitch can help inform and grow one's network of people who can help find job opportunities. This second routine shows How to Write an Elevator Pitch.
Personal appearance is so important, both for job interviews and for how you present yourself after you're hired. A third routine outlines How to Dress and Groom appropriately when you are getting ready to go to the interview.
When you schedule your interview, you might want to ask whether formal or casual business dress is expected. If a tie is appropriate and you're not used to wearing one, a routine can help you practice How to Tie a Tie. This routine was created by Mike Crockett, one of the students who participated in the Cognitopia participatory design class through the Eugene 4J Community Transition and Connections program.
For the time being, due to COVID-19, your interviews are likely to be done remotely online. The next routine gives some pointers on How to Prepare for an Online Interview. 
When on the job, Routines can also be used to support social skills, sometimes called "soft skills"  of employment by making explicit some of the hidden rules that might be unfamiliar depending on your prior experience. This next routine provides Tips for Working in an Office Environment  for someone who may be new to that kind of job.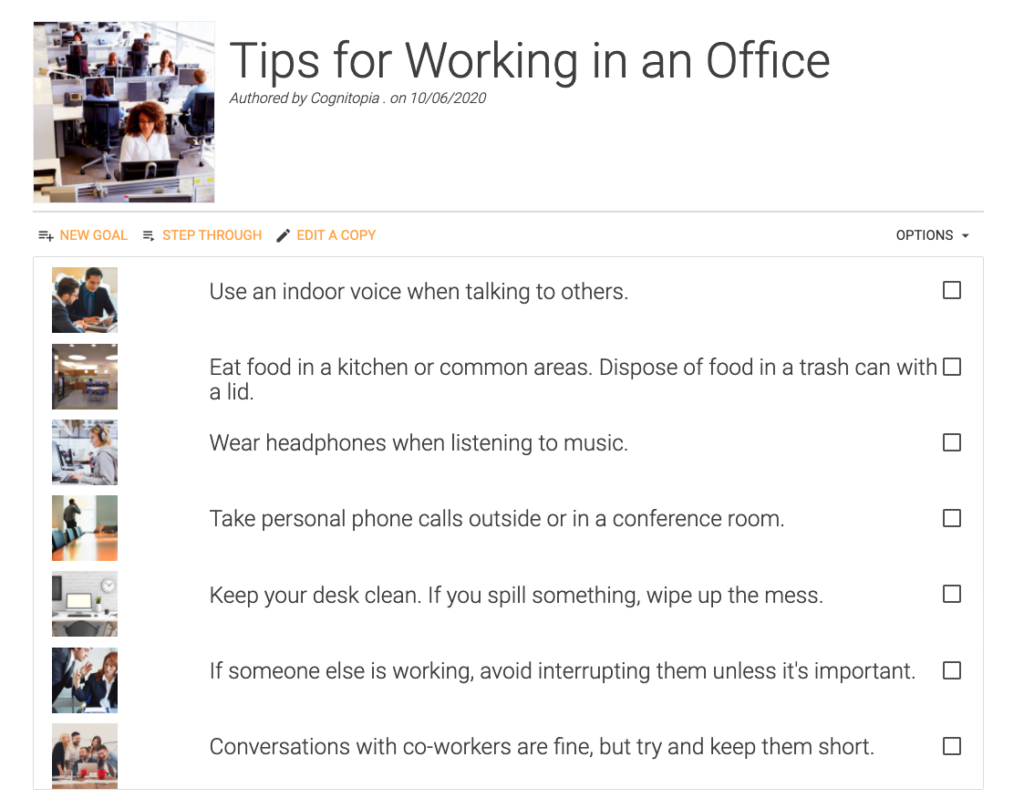 Routines can also be helpful in understanding the steps of performing different tasks or parts of a job. For example, this routine describes the key elements of Working in a Mailroom. And this one illustrates the steps of Stocking Shelves at a Retail Store. 
The image below shows the routine for stocking shelves along with some key information about using routines. It also shows how a QR code is automatically created for every routine. Routines can then be accessed either by clicking through the software interface or by simply pointing a mobile device camera at the QR code and opening the device's web browser. Used in this way, QR codes provide a simple, accessible way to provide location-specific support for task accomplishment.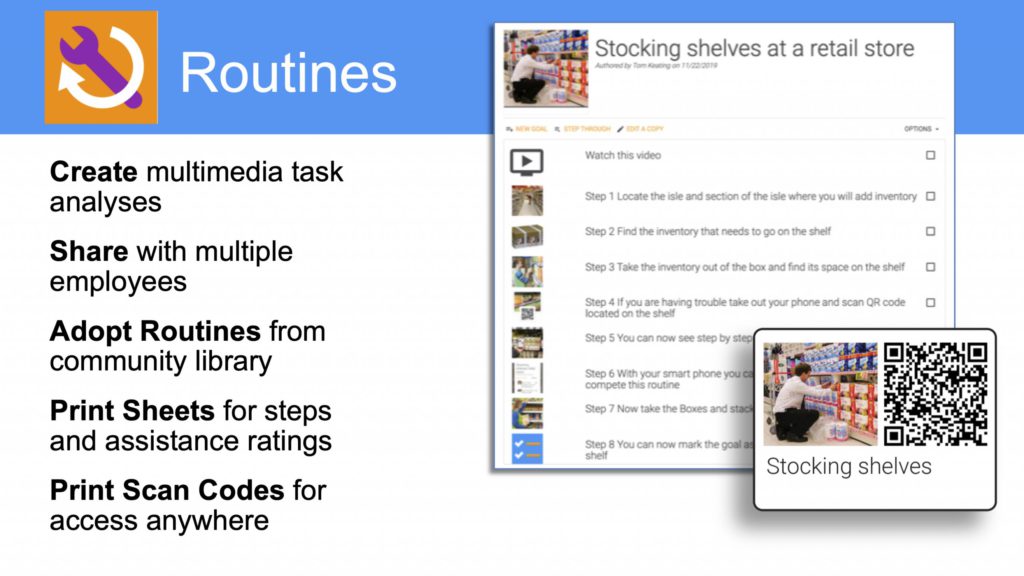 Individual users can also easily share routines with others who may benefit, as can those in support roles such as teachers, parents, employment professionals, and others.
Try scanning this QR code for that last routine with your mobile device camera, and then click here to view and download a free sheet of codes for all 8 of the routines described above. Have fun!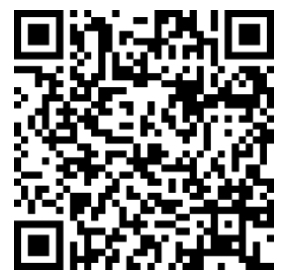 For more information on Routines and Cognitopia's suite of innovative tools for self-management and IEP self-direction, please go to https://www.cognitopia.com.
Tom Keating, Ph.D. is founder and CEO of Cognitopia, home of the Cognitopia Platform for Self-Determination, emphasizing tools for IEP self-direction, goal management, task analysis, and team coordination. Keating has been focused for the past 20 years on research and development of self-management and community living applications for individuals with cognitive disabilities and has been principal investigator on over 20 federally-funded technology development projects. He is also a Courtesy Research Associate in the Computer and Information Sciences Department of the University of Oregon. Keating's perspective in all of his work has been strongly influenced by his experience of 31 years as a primary supporter for a brother who experienced autism.