No One Knows and Cares For Your Child Like You Do. Have You Given Them The Best Tools To Succeed?
Your child can learn ways to adapt with their disabilities with the right tools.

Most commonly, only two main people are at every IEP meeting, appointment, and transition experience for children with Autism and IDD, the mother (you) and the child (your child).
Having a child on the spectrum is both extraordinary and demanding. However, supporting your child, keeping things organized, and managed, all while giving your child a sense of independence, becomes a massive challenge without the best tools. Life can present many closed doors to rewarding experiences and joys. However, you can guarantee some of them are open or at least that your child has the key to open them.
Assistive technology tools are the only method that has been successful at supporting someone beyond being with your child 24/7 to help them. Without the assistive tech, you usually are the one doing all of the supporting.
You remind your child of what comes next and assist them with all tasks. Expecting them to succeed independently without the appropriate tools can be unfair. You wouldn't only offer physical therapy as a complete solution to a person whose disability requires the regular use of a wheelchair would you?
It's critical that you help your child. Assisting them in high school, college, independent living, or employment, provides the best opportunities. Giving them the best tools and systems to aid them will provide your child with a path to freedom. Then, they can take control of their world, tell their story, and manage their own behavior as an adult.
Only $108/year
Secure Checkout
Get 2 FREE Private Coaching Sessions Included
Valued at $200 if you act now.
Includes you, your child, and any other supporters you desire. Secure your spot for training today. Sign up and we will contact you by email to schedule your 1st Private Coaching session.
7 Reasons You Need Cognitopia Right Now
$9/month x 12 months = $108/year
Life Challenges Exist And Can Be Reduced
Each child is unique.  There is no average . . . everyone can be said to be great in their own ways.
  How does that play out in terms of using a "special education" approach with ALL students?  You must help each to succeed in their own, uniquely-strong way.
What would happen right now if:
You weren't available to support your child anymore?

A long-term positively influential supporter couldn't be there for your child anymore?

Someone completely new needed to come in to support your child?

Many new people needed to support your child while your child needed to completely perform independently?

Your child had no connection to any of their trusted supporters while at school, college, home, or work and a crisis occurs?  Could another person help them easily?
Cognitopia delivers support for all areas of life and doesn't just stay at one. Whether your child uses it at school, home, or work, it will be available anywhere and anytime from their personal smartphone, tablet, or computer. 
Best of all, you can support your child inside and outside of the Cognitopia platform and so can all of the other supporters in their life. Teachers, therapists, job coaches, managers, family, or anyone else valuable to your child's independent successes can be privately and securely connected and available on the tool's software platform.
There are many common challenges that you and your child might be experiencing. Even when your child is fully invested in the results, these struggles happen often.
Cognitopia helps you:
Include SMART Goals

that are appropriately challenging, relevant, and measurable. Goals that accurately communicate the long-term outcome you and your child desire, including the appropriate given conditions and levels of support. You can even have goals that have smaller measurable objectives that help your child make genuine progress while documenting proof of accomplishment.

Support Executive Functioning and Memory

increasing your child's ability to be independent and have agency and autonomy in their life. You can improve your child's confidence by making it easier to plan, take action, and remember valuable information shared with them.

Simplify Critical Transitions

in your child's life. You can make it easy to manage less structured tasks or switch between tasks, by providing on-demand routines. Your child will find it easier to follow multi-step directions and prioritize steps of tasks.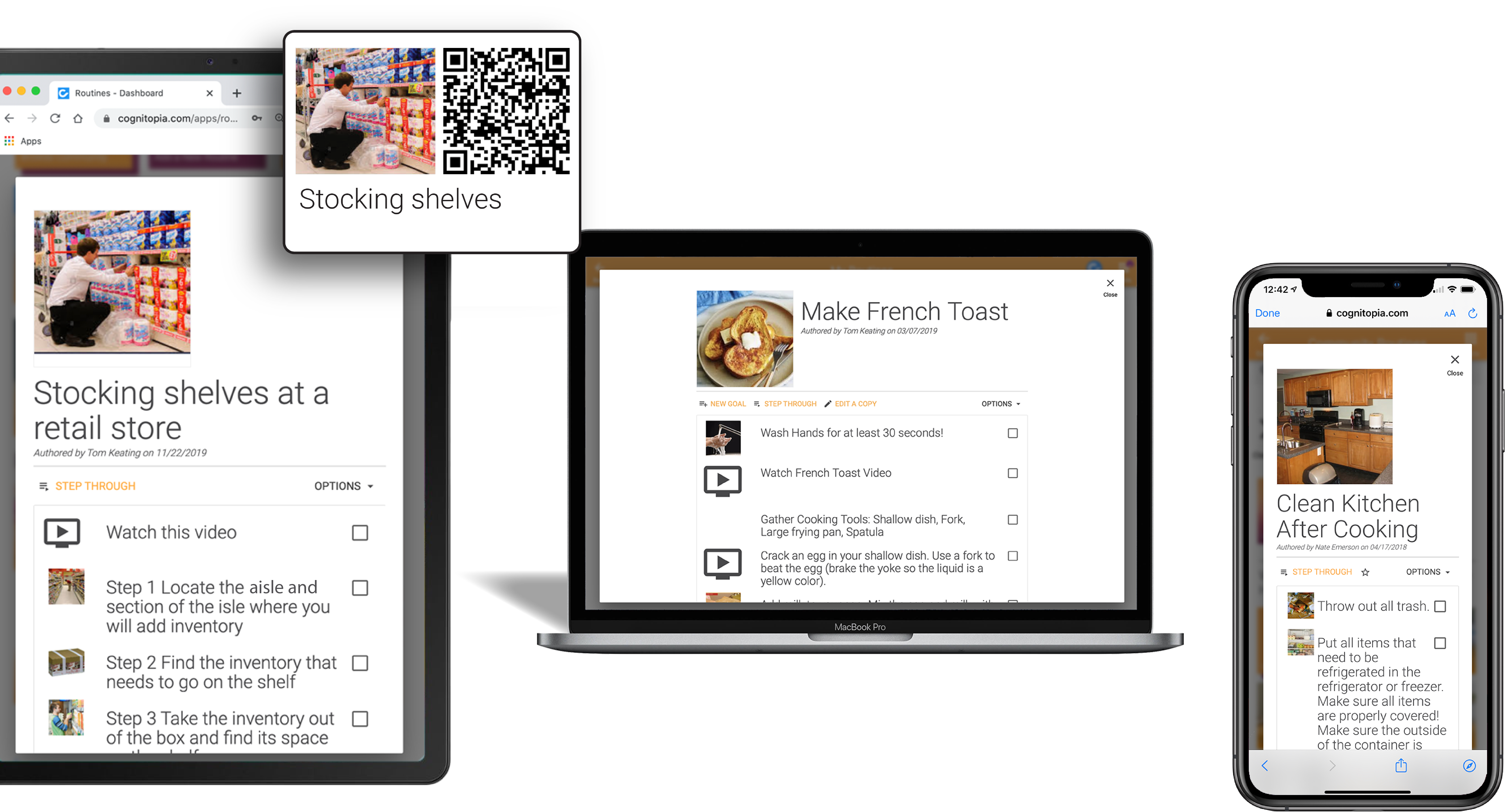 Improve Your Child's Confidence

by making it easier to plan, take action, and remember valuable information shared with them. You reduce a great deal of frustration and anxiety by giving quick access to details, reminders, and steps to follow.

Keep Access

beyond any graduation or transition moment to all of the powerful and supportive information.  Whether graduating from a school, class, moving, getting a new support worker, or changing jobs, Cognitopia continues on with your child.  The software continues to add value and grow along with your child through their life path. They don't lose access to what has been given to and shaped for them.
You and your child can start your Cognitopia account today. Try it 14-days free.
Cognitopia is designed to help individuals with disabilities lead independent lives. The product is backed by empirical research. The company partners with various organizations, employers, research institutions, and individual school districts. Cognitopia has many functions perfectly suited to assist your child's needs. 
You can put everything on it and share with anyone. My son can show other people what he can do, including being able to showcase his many marketable skills and talents without having to try and describe them to a potential employer.

Parent at supporting Transition Aged High School Student

MyLife worked in my IEP meeting very good because it helped me communicate my needs.

Student at Transition Age

Students take ownership of their skills and their desires and wants. It has become very eye-opening because you can really see the personalities shine through when they are sharing on Cognitopia.

Director of Student Services at Pleasant & Ridgedale School Districts, Ohio

We could not have asked for a better partnership in terms of communication and providing support for our teachers and our students....The teachers raved about the program. The students loved the program.

Executive Director at The School District of Phladelphia

We can't be more happy with Cognitopia!

Associate Director, Center For Autism Spectrum Disorders/Project F.O.C.U.S. at University Of Nevada, Las Vegas

The fact that they are able to present this information with minimal support from their team members is really impressive.

Autism Consultant at Oregon School Districts

Cognitopia provided the opportunity for my students to lead their IEP meetings, advocate for their needs in a format they understood, and share them with friends and family.

Special Education/Transition Teacher W.E.S.T. Program at Windsor Exceptional Students In Transition

It allows me to show what types of stuff I am interested in.

Student at Transition Age

I can't scream loud enough how amazing Cognitopia is! It's very, very customizable for each individual's needs.

Head of Academics at Tennessee Rehabilitation Center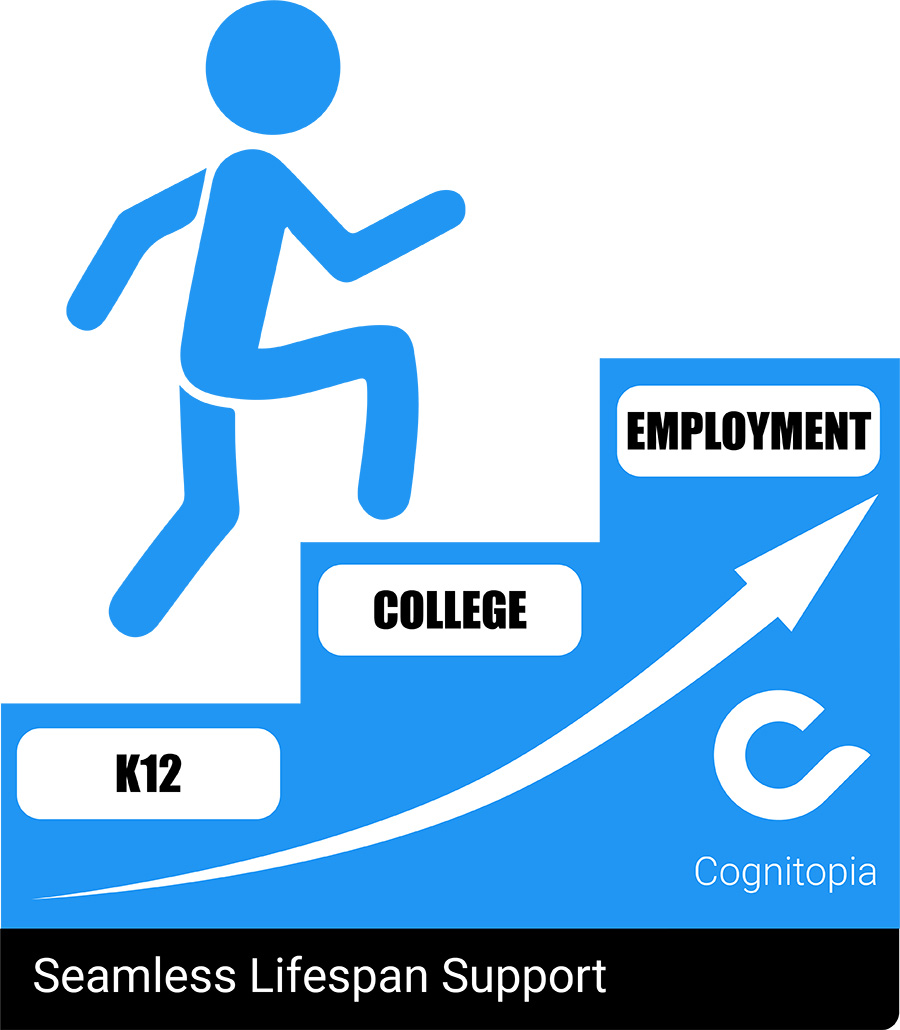 You can custom tailor Cognitopia entirely for your child's needs. The membership comes with user training and support. Furthermore, the program is designed for individuals to use in school, at home, and in their employment environments. So it has the potential to grow with your child as they move toward independence.
As an assistive technology tool, Cognitopia can help your child manage the practical challenges of everyday tasks at home and in school. It offers step-by-step help with tasks, transition reminders, task completion functions, progress tracking, and more all completely tailored to your child for each individual task they need help to complete. Cognitopia, by design, breaks down tasks into smaller, more manageable steps aiding the user in the completion of tasks. 
If your child wanted, they could set up their routines and tasks with entirely visual cues. Your child wouldn't have to rely on written instructions or reminders, which are a large part of many organizational tools such as google calendar and other planners you may have tried without success. When you consider successes with organizing and tracking using visual storyboards for projects, think about how Cognitopia's visual options alone could make it easy for your child to navigate educational expectations.
Cognitopia's software assists seamlessly across all devices, including the computer, phone, and iPad/tablet. 
What Assistive Technology tools are you offering now, that will help mitigate the challenges related to your child's disability across multiple areas of their life? Have you offered them the best tools to help them succeed?
Cognitopia Even Helps Your Child Lead Their IEP
Students across the country are using Cognitopia to lead their IEP meetings, both in-person and virtually.
Cognitopia offers a useful assistive tech option that happens to incorporate IEP progress tracking and support directly into its design. In this way, it is a powerful tool for enabling students to understand their IEP, take a leadership role in the IEP meetings, and build self-advocacy skills. Additionally, it helps anyone on their IEP team get a better picture of truly who your child is and how they see themself. Therefore, they are better equipped to meet and support their needs.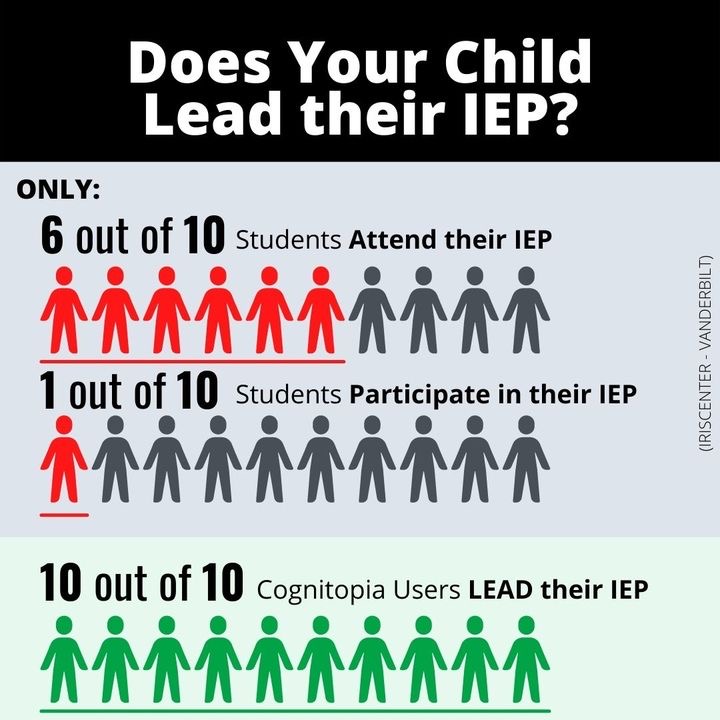 The MyLife digital portfolio tool in Cognitopia, features default template categories like Strengths, Interests, Preferences, Accommodations, Needs, Academic Progress, and Annual Goals. As your child approaches 16, it's even more important to look toward their transition goals. 
---
You Get Powerful IEPs Like This!
VIDEO: Makenna's Self-Directed IEP
Digital Portfolios / ePortfolios Are Proven Tools – Cognitopia's Are Even Better
Digital portfolios are a powerful tool ready to use exactly when needed.  
You may have come across ePortfolios and their successful results as an assistive technology.  Cognitopia makes the tool even more accessible to use and integrated with the other tools on the platform, such as Goal Guide (for goal creation, support, and tracking) and Routines (used for on-demand step-by-step guidance for any process that can be broken down into manageable task steps).
The MyLife ePortfolio delivers another purpose with its capability to assist users in their transition goals and beyond. Keep in mind… Users get to keep access to any of their Cognitopia materials beyond any transition in their life for historical evidence and continued beneficial use. Going forward past graduation, Users have the ability to use MyLife for a visual multimedia resumé, on-the-job support manual, and assistive expression.  
Cognitopia Users can have multiple digital portfolio types ready to use for improved communication, guidance, and personal development.
The digital resumé can include sections where users can put pictures, videos, and written content showing a fuller picture of themselves and their strengths, needs, talents, achievements, skills. They can also add interactive content with task-analyzed Routines and dynamic goal data for continued development. With the eResumé, they can then choose to share it with potential employers, professors, support persons, job coaches, or anyone else who can help them advance their independence and careers. 
Your child can improve their confidence and skill. They can see themselves with a job or going to college.  Before Cognitopia, many individuals found it hard to imagine these future opportunities. Now, individuals are entering through exciting doors of opportunity and opening new opportunities.
See your child living on their own, working at a job they love, going to college, or doing whatever they commit their brilliant minds to do.  Your responsibility, as part of their support team, continues to be ensuring they have the appropriate tools to do so.
Start your Cognitopia demo.  Offer hope to your child that they can experience first hand.  Help them realize that they could live on their own one day.
---
IEP Meetings Before & After Cognitopia
BEFORE
Student Uninvolved.
AFTER
Student Involved and Leading.
Do You Want Things to Be Easier, Better, and More Fulfilling for Your Child?
Self-Directed IEPs are happening now with powerful results. You too can make a self-directed IEP remarkable using Cognitopia. Students are discovering more about themselves and developing self-advocacy skills because they are revealing their voice with their digital portfolios.
Parents of children with autism struggle to help their child adapt to adulthood, however you can avoid that danger. Cognitopia makes it easy.
You will reveal amazing insights.  Interests, strengths, preferences, needs, accommodations, progress, and goals become clear.  The IEP team will be all on the same page, supporting your child's success and growth. Then, the chosen valuable information can be shared with one click to employers, new teachers, therapists, or anyone you choose.
Why make things more difficult than needed?  The new technology and tools exist for you now.  Everything has been developed in context with solid evidence and proven results.  You and your child can improve life.  Don't get left behind or struggle anymore.
Only $108/year
Secure Checkout
Get 2 FREE Private Coaching Sessions Included
Valued at $200 if you act now.
Includes you, your child, and any other supporters you desire. Secure your spot for training today. Sign up and we will contact you by email to schedule your 1st Private Coaching session.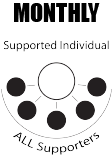 ---
One solution for a parent to support their child, who is also supported by other Family Members, Teachers, BCBA's, Coaches, Therapists, etc.
1 Supported Person
100 supporters
Support Hub - All ability to remotely help and connect
SAVE Time & Money
7 Reasons You Need Cognitopia Right Now
$9/month x 12 months = $108/year
Special offer only available now. You Risk Nothing. 14-Day Free Trial. Get Started Today.