How Children With Autism Make IEPs Remarkable Using This Software
Make Your Child The Star At Their Next IEP
Parents Of Children With Autism Struggle To Help Their Child Adapt To Adulthood – You Can Avoid That Danger.
Help your child start sharing who they are by adding to and customizing their online MyLife Portfolios today while you make it easy to prepare and communicate at their next IEP and beyond. – We will coach you.
Special Plan Price includes everyone who supports your child: Teachers, Family, Therapists, Coaches, etc.

Do You Want Things to Be Easier, Better, and More Fulfilling for Your Child?
Self-Directed IEPs are happening now with powerful results. You too can make a self-directed IEP remarkable using Cognitopia. Students are discovering more about themselves and developing self-advocacy skills because they are revealing their voice with their digital portfolios.
Parents of children with autism struggle to help their child adapt to adulthood, however you can avoid that danger. Cognitopia makes it easy.
You will reveal amazing insights.  Interests, strengths, preferences, needs, accommodations, progress, and goals become clear.  The IEP team will be all on the same page, supporting your child's success and growth. Then, the chosen valuable information can be shared with one click to employers, new teachers, therapists, or anyone you choose.
Why make things more difficult than needed?  The new technology and tools exist for you now.  Everything has been developed in context with solid evidence and proven results.  You and your child can improve life.  Don't get left behind or struggle anymore.
Only $108/year
Secure Checkout
Get 2 FREE Private Coaching Sessions Included
Valued at $200 if you act now.
Includes you, your child, and any other supporters you desire. Secure your spot for training today. Sign up and we will contact you by email to schedule your 1st Private Coaching session.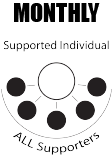 ---
One solution for a parent to support their child, who is also supported by other Family Members, Teachers, BCBA's, Coaches, Therapists, etc.
1 Supported Person
100 supporters
Support Hub - All ability to remotely help and connect
SAVE Time & Money
7 Reasons You Need Cognitopia Right Now
$9/month x 12 months = $108/year
Increase Self-Advocacy
Increase student self-advocacy skills. Students put in IEP goals the way they choose (easily with text, pictures, video, or audio), document their progress, and use that data to share it with you.
Improve Independence
Cognitopia's MyLife makes it easy for students to organize the content in their IEP and create presentations to run their IEP meetings.
Simplify Transition
A student's MyLife portfolio stays with them through transition and beyond. MyLife provides digital storytelling that helps students communicate who they are, what they can do, and their post-school goals.
You Get Powerful IEPs Like This!
VIDEO: Makenna's Self-Directed IEP
---
7 REMARKABLE BENEFITS
---
---
Encourage Self-Advocacy

Increase Student's Awareness of Their Ability & Disability

Improve Purpose of the IEP Focus

Inspire Key IEP Content

Discover Interests, Dreams, and Goals

Give Students an Accessible Presentation Tool

Foster Team Support & Involvement

Save Time with Remote Support & Feedback
IEP Meetings Before & After Cognitopia
BEFORE
Student Uninvolved.
AFTER
Student Involved and Leading.
You can put everything on it and share with anyone. My son can show other people what he can do, including being able to showcase his many marketable skills and talents without having to try and describe them to a potential employer.

Parent at supporting Transition Aged High School Student

MyLife worked in my IEP meeting very good because it helped me communicate my needs.

Student at Transition Age

Students take ownership of their skills and their desires and wants. It has become very eye-opening because you can really see the personalities shine through when they are sharing on Cognitopia.

Director of Student Services at Pleasant & Ridgedale School Districts, Ohio

We could not have asked for a better partnership in terms of communication and providing support for our teachers and our students....The teachers raved about the program. The students loved the program.

Executive Director at The School District of Phladelphia

We can't be more happy with Cognitopia!

Associate Director, Center For Autism Spectrum Disorders/Project F.O.C.U.S. at University Of Nevada, Las Vegas

The fact that they are able to present this information with minimal support from their team members is really impressive.

Autism Consultant at Oregon School Districts

Cognitopia provided the opportunity for my students to lead their IEP meetings, advocate for their needs in a format they understood, and share them with friends and family.

Special Education/Transition Teacher W.E.S.T. Program at Windsor Exceptional Students In Transition

It allows me to show what types of stuff I am interested in.

Student at Transition Age

I can't scream loud enough how amazing Cognitopia is! It's very, very customizable for each individual's needs.

Head of Academics at Tennessee Rehabilitation Center
Special offer only available now. You Risk Nothing. 14-Day Free Trial. Get Started Today.